Can an Optometrist do LASIK Surgery?
If you are tired of having to wear glasses and contact lenses to correct your vision, LASIK eye surgery could be the solution you're looking for. Ditching the need for corrective eyewear and seeing clearly through your naked eye can be liberating for some. At Broadway Eyecare our experienced ophthalmologists perform LASIK surgery to correct refractive issues like myopia, hyperopia, and astigmatism.
If you have any questions or want to book a consultation, please contact us — our friendly staff is always more than happy to help.
What is Laser Eye Surgery?
Laser eye surgery is one of the most commonly practiced surgeries that corrects vision problems caused by refractive errors like myopia, hyperopia, and astigmatism. Laser eye surgery has even progressed to be able to correct presbyopia as well, which occurs as we get older. These refractive conditions are caused by the eye focusing an image on the retina incorrectly due to an abnormally shaped lens or cornea.
Laser eye surgery operations involve a surgeon using a laser device to make permanent changes to the shape of the cornea. The laser used most often is the Excimer laser, which produces a beam of UV light to vaporize tissue. The use of this laser in eye surgery is to alter the shape of the cornea in some way and correct mild to moderate refractive errors.
What is LASIK Surgery?
LASIK eye surgery is the most commonly known and performed laser eye surgery, and it is performed to correct vision problems. LASIK surgery is an alternative correctional method to eyeglasses and contact lenses. During a LASIK surgery operation, a precise Excimer laser is used to change the shape of the cornea to improve vision.
When considering eyes with no refractive issues, the cornea will refract light onto the retina so it converges on its surface — when refractive issues are present, the refracted light will not converge on the retina, rather, it will converge at a different point and cause blurred vision in certain settings and distances. Reshaping the cornea through LASIK surgery can fix this improper refraction.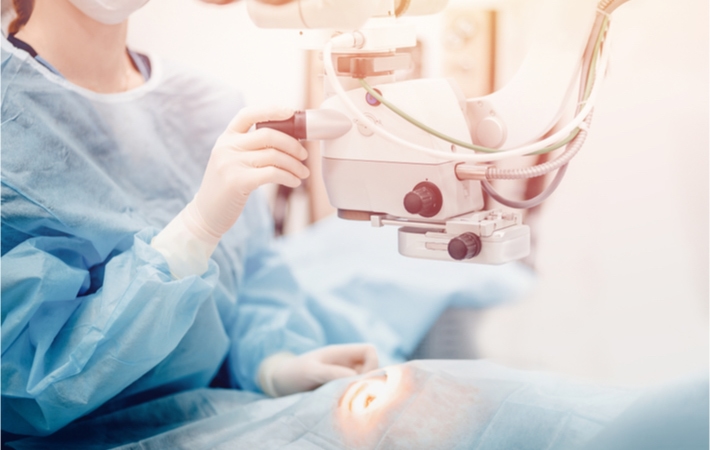 Is LASIK Surgery Right For You?
To be a candidate for LASIK surgery, you need to meet certain requirements:
You should be 18 years or older (ideally over 21 years old).
Your eye prescription should not have changed much in the previous year.
Your refractive issue must be one that can be treated with LASIK.
Your corneas need to be thick enough and healthy
Your overall level of eye health must be good.
You need to have realistic expectations about what LASIK can and cannot do.
Some people cannot receive LASIK surgery — this includes people with:
An unstable refractive error
Severe cases of myopia, hyperopia, or astigmatism
Severe dry eye
Corneas that are too thin
The presence of cornea abrasions or disease
Keratoconus
Advanced glaucoma
A cataract that greatly affects vision
A history of having certain eye infections
Severe diabetes
Pregnant or nursing women
Your ophthalmologist will also examine your eyes to see if you are a candidate for LASIK surgery. During your examination, they will:
Check the overall health of your eyes.
Take measurements of your cornea.
Check your pupil size.
Measure your refractive error.
In some cases, your ophthalmologist will also measure the quality and quantity of tears that your eyes currently produce. This is performed to check if you currently are being affected by dry eye.
Who Can Perform LASIK Surgery?
Optometrists cannot perform LASIK surgery — an Ophthalmologist will be required for the operation. Ophthalmologists are required to complete 12 to 13 years of training and education and are licensed to practice medicine and surgery. The advanced training that ophthalmologists undergo allows them to diagnose and treat a wider range of conditions when compared to optometrists and opticians. An ophthalmologist can:
Diagnose and treat all eye diseases
Perform eye surgeries (including laser eye surgeries)
Prescribe and fit eyeglasses and contact lenses to correct vision problems
See Clearly at Broadway Eyecare
If you believe you are a candidate for LASIK eye surgery, and think that you could benefit from getting your refractive error treated by laser surgery, book a consultation at Broadway Eyecare. Our expert staff is equipped to walk you through the process of the surgery and answer any questions that you may have. Our practice puts the patient first — if you have any current concerns, our team will be able to address them and give you the information that you need.