Contact lenses provide excellent vision, but some people find them uncomfortable or difficult to wear. If you're one of these people, your optometrist may recommend scleral lenses as an option, but what are these contact lenses?
Continue reading to learn more about scleral lenses, including what they are, their benefits, and how to know if they're right for your needs.
What Are Scleral Lenses?
Scleral lenses are specialty contacts designed to cover your entire corneal surface. Unlike regular contacts, scleral lenses rest on the white of your eye (the sclera). These lenses offer greater durability, easier handling, and sharper vision than standard, soft contact lenses.
The design of scleral lenses allows them to transform an irregular cornea into a smooth optical surface. These contacts are versatile; your optometrist may recommend them to help address several conditions.
Scleral lenses are beneficial for many conditions, including:
There are different types of scleral lenses available, depending on your needs.
Types of Scleral Lenses
3 types of scleral lenses are available today, differing in size and where the lenses make contact with the surface of your eye. Scleral lens types include:
Corneo-scleral & semi-scleral lenses: These lenses are larger than standard rigid gas permeable contacts and rest between the cornea and sclera
Mini-scleral lenses: These lenses vault over the entire cornea and rest on the anterior sclera
Full scleral lenses: These are the largest scleral lenses available and provide the most space between the back of the lens and the cornea
Scleral lenses consist of breathable and rigid material that allows for oxygen to reach the eye's surface. This design ensures your eyes feel comfortable and stay healthy.
What Are the Benefits of Scleral Lenses?
There are several benefits scleral lenses can have for your eyes. First, the larger size makes scleral lenses more stable than traditional contacts, and they're less likely to fall out. Scleral lenses can be more comfortable than other contact lenses and are ideal for people with sensitive eyes or irregular corneas.
Scleral lenses have many benefits for your eyes, but how do you know if they're right for your unique needs?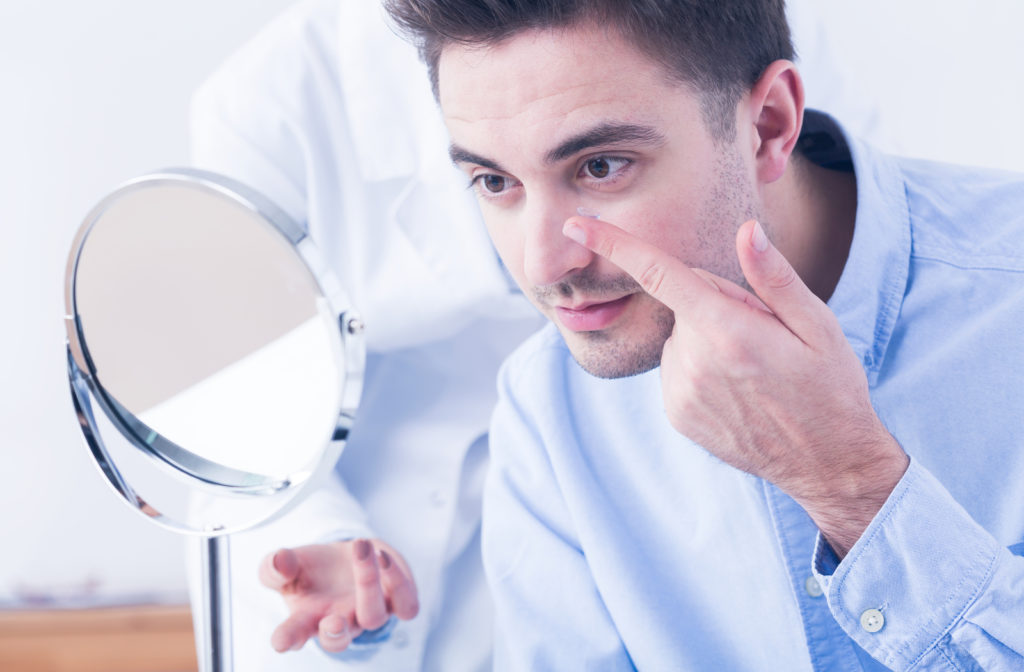 Are Scleral Lenses Right for You?
The best way to know if scleral lenses are right for you is to speak with your optometrist. They can conduct a contact lens exam and determine if you can benefit from these lenses.
While anyone can get these contacts if they're interested, scleral lenses are usually best for people who have one of the following:
Irregular corneas
Hard-to-fit eyes
Irregular Corneas
People with vision problems caused by irregularly shaped corneas may not fully correct their vision with glasses or soft contact lenses. Irregular corneas can happen because of eye surgery or natural causes like keratoconus, a condition causing your cornea to bulge outward.
Hard-to-Fit Eyes
Some eyes cannot comfortably wear standard contact lenses, or their shape causes lenses to dislodge. Scleral lenses are beneficial for hard-to-fit eyes because they're comfortable and fit more securely.
Caring for Your Scleral Lenses
Scleral lenses require the same amount of care as regular contacts. Your optometrist can give you detailed care instructions, but follow these general guidelines:
Wash your hands with soap & water before handling your contact lenses
Avoid wearing contacts when you swim
Use only commercially prepared, sterile contact lens solutions
Replace your contact lenses & cases as recommended by your eye doctor
Complications can happen even with diligent care. Contact your optometrist if you experience red or itchy eyes, sudden blurry vision, or discomfort when wearing your contact lenses.
Experience Clear & Comfortable Vision
If regular contacts are difficult to wear, glasses aren't your only option. Speak with your optometrist about scleral lenses. They can answer any questions you may have and determine if these lenses are right for your needs.
If you're interested in scleral lenses, book an appointment with your eye doctor today.