Eye pain is always a little alarming. Even itchy red eyes can become a cause for concern—is there just more pollen in the air than usual, or is an eye infection developing? Is this something to address at your next eye exam, or should it be dealt with now?
Don't leave yourself in the lurch when a problem strikes. Plan a course of action for your eyes and read on to discover what constitutes an eye emergency. And remember, many optometrists take emergency patients when needed, so keep their contact information on hand.
What is an Eye Emergency?
There are many types of eye emergencies, all with different symptoms and causes. A good indicator of an eye emergency is any pain or vision problem with a sudden onset, whether or not there's an apparent cause.
Incidents that typically can be classified as eye emergencies include:
An accident or traumatic injury
A bulging eye
Pupils that aren't the same size
Noticeable and abrupt vision changes
Chemical splashes
Discharge, blood, or pus in the eyes
Seeing floaters or flashes
Visible bleeding inside the eye
One eye suddenly moving differently than the other
What Causes Eye Pain?
The eyes are sensitive, complex organs. Eye pain can be caused by anything from dirt blowing into your eye to trauma to the head. Some frequent causes of eye pain include:
Allergies
Blepharitis (eyelid inflammation)
Injuries
Foreign objects
Improper contact lens use
Environmental irritants
Any sort of eye pain should be addressed by your optometrist, but sudden or severe eye pain should be looked into immediately.
Common Eye Emergencies
Corneal Abrasion or Scratch
Your cornea is the clear, outermost layer of your eye. A small scratch may give that irritating feeling that there's something in your eye. A large scratch or cut will likely be even more painful.
Corneal abrasions make it more likely that your eye can become infected or even develop an ulcer. Visit your optometrist so they can ensure the eye is clean.
However tempting it may be, don't rub your eye. That can cause further scratching, which brings more irritation and pain.
Chemical Splashes
Chemical eye injuries can occur nearly anywhere. Gardening chemicals, cleaning agents, industrial chemicals, aerosols—if any of these makes its way into your eye, pain is likely to follow.
If chemical contact occurs, make sure your hands are clean (especially of any of the substances that got in your eyes) and flush a lot with clean, cool to lukewarm water.
Foreign Object in the Eye
Any sort of foreign object in the eye can cause an eye emergency. Smaller debris, even sand or dirt, could cause serious irritation or corneal scratches. Large objects embedded in the eye are a clear cause for concern.
If the object is small enough, you can try rinsing the eye with clean, lukewarm water or a specially formulated eyewash solution. Workplaces sometimes have dedicated eyewash stations; make sure you know where this is on your job site.
Don't try to take anything out of your eye yourself, and don't put any other objects near your eye to try and remove the original irritant—for example, tweezers near the eye are a hazard, particularly when you're already in pain. Please don't risk further injury.
Blood in the Eye
It's possible to burst a small blood vessel in your eye with no vision problems and no pain. If it's just on the surface of the white of your eye (the sclera), it's often unsettling to see but is likely harmless. This is called a subconjunctival hemorrhage and is rarely an eye emergency.
However, blood in the iris or pupil is a different story. This is called hyphema and is a major ocular problem. Often caused by an injury, blood will pool in the chamber of the eye normally filled with clear fluid.
Hyphema symptoms include:
Pain
Headaches
Blurred or distorted vision
Sensitivity to light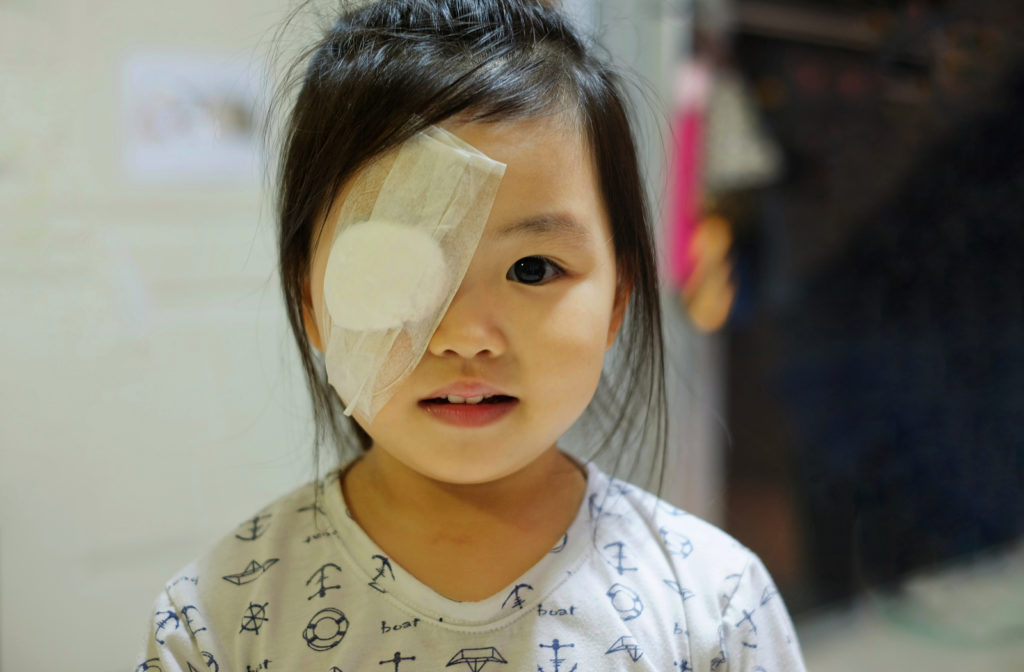 What to Do During an Eye Emergency
One of the most important things you can do in an eye emergency? Seek medical treatment. Acting fast may save your vision or at least speed the healing process.
Cover your eye with something loose that applies no pressure, like a styrofoam cup. Shielding the eye will not only protect it from further harm but will also help reduce your eye movement and prevent you from touching the eye.
Be prepared to give any medical professionals whatever information you have about what happened. Try to recall the incident and any steps you took to manage the emergency.
What NOT to Do During an Eye Emergency
Some actions that may feel natural to take can cause more harm. In case of emergency, remember the following:
DON'T try to remove anything that's become embedded in the eye
DON'T put medications or salves in the affected eye
DON'T use any tools or instruments near your eye
DON'T touch your eye
DON'T rub your eye
When a Trip to the Emergency Room Is Unavoidable
Most optometrists aren't open 24/7. If an eye emergency strikes out of office hours, don't risk your vision. Head to the nearest emergency room to seek medical attention.
In certain instances, the emergency room should be your first course of action. If an eyeball is dislodged from its socket or something punctures the eye, call 911 immediately.
Make a Visit to the Optometrist
Not every eye twinge or itch is necessarily an emergency. Still, if you're having any issues with your eyes—from allergies and dry eye symptoms to difficulty with your long-distance vision—book an appointment with your eye doctor.
If you're concerned about an eye emergency, please call us. We can advise you, direct you to the emergency room, or get you in to see an optometrist. Broadway Eyecare offers emergency eye care services. Whether it's our clinic on Main and Broadway or another YXE Vision Group Optometrist clinic around Saskatoon, we're here to take care of your eyes.