If you spend a lot of time working on digital screens, you may notice that your eyes feel fatigued and uncomfortable afterwards. This is most likely due to a vision problem called digital eye strain.
Even though digital eye strain doesn't typically have serious or long-term consequences, it can lead to unpleasant symptoms and affect your productivity levels.
One of the most common causes of digital eye strain is the glare and blue light emitted from digital screens. Luckily, digital eye strain can be easily diagnosed by receiving an eye exam.
If your eye doctor diagnoses you with digital eye strain, they may recommend wearing blue light-blocking glasses.
Keep reading to learn more about digital eye strain and how blue light-blocking glasses can lessen your symptoms.
What is Digital Eye Strain?
Digital eye strain is a common vision problem that can cause a variety of symptoms. It is caused by prolonged digital device use, including computers, e-readers, and even smartphones.
Digital eye strain affects both children and adults and has increased in frequency over the past few decades.
Symptoms of Digital Eye Strain
Digital eye strain can cause a variety of symptoms. Most of these symptoms are temporary and tend to go away after your eyes get a break from your digital device. But sometimes, symptoms can continue for longer if:
You spend several hours on your digital device without taking a break
You view digital devices at a short distance
You have underlying eye problems
You view digital devices in poor lighting
Digital eye strain can cause the following symptoms:
Blurred vision
Eye discomfort
Eye fatigue
Eye itching
Eye redness
Eye tearing
Additional Risk Factors
You may be at greater risk for digital eye strain if you:
Spend several hours a day using a digital device
View digital devices too close to your eyes or at the wrong angle
Have bad posture while using your computer or digital device
Have underlying eye problems (even minor ones)
Don't take enough screen breaks
What is Blue Light?
Blue light is part of the visible light spectrum. It is the light we see that has the shortest wavelength and highest energy.
Sources of Blue Light
Blue light makes up approximately one-third of the light we see. Sources of blue light include:
Sunlight
Computer monitors
Smartphone screens
Flat-screen televisions
LED lights
Fluorescent light
Compact fluorescent light (CFL) bulbs
Tablet screens
Sunlight is the primary source of natural blue light, and digital devices emit only a fraction of that emitted by the sun. Even though digital devices give off a less intense source of blue light than the sun, we have much more exposure to digital devices and view it more directly than other sources.
What are Blue Light Blocking Glasses?
Blue light glasses are glasses that block or filter out the blue light that comes from digital screens. Research shows that blue light glasses may:
Alleviate digital eye strain
Improve visual performance
Improve sleep quality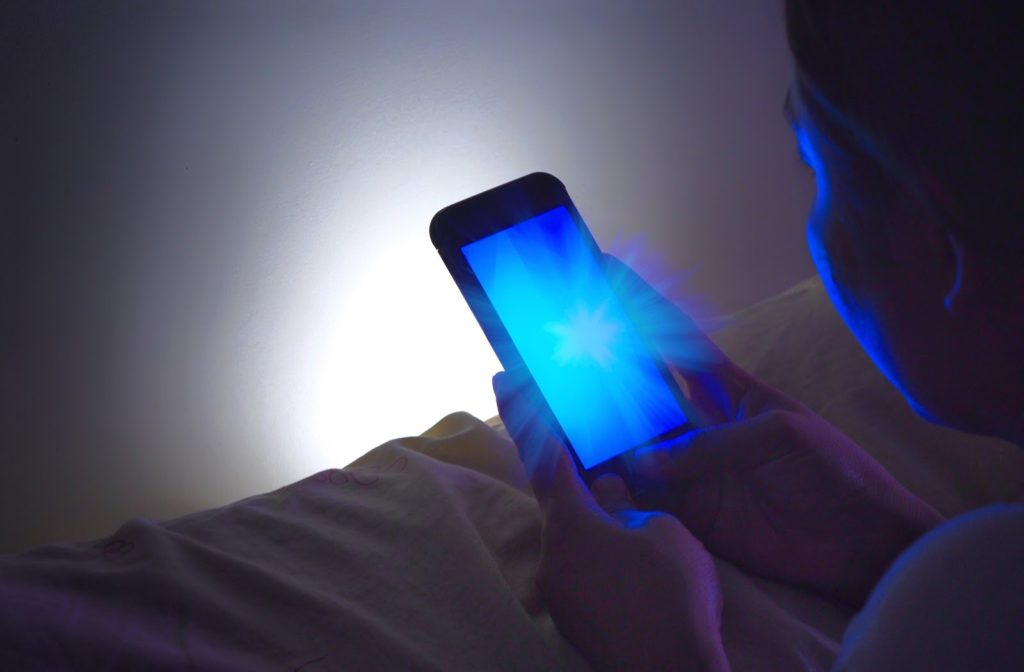 Blue Light & Digital Eye Strain
Blue light can cause eye strain because blue light scatters more in the eye. This reduces the contrast we see and makes it more difficult for our eyes to focus when we view light at a lower wavelength. These factors can contribute to digital eye strain.
How Do Blue Light Blocking Glasses Work?
Blue light glasses have lenses that are treated to filter out blue light. This treatment prevents glare and blocks the transmission of blue light, lessening the "scatter" that causes digital eye strain.
Ultimately, blue light glasses can help your eyes feel more comfortable after spending time staring at a screen.
What Else Can I Do?
In addition to using blue light blocking glasses to alleviate digital eye strain, you can:
View your screen at an arm's length from your eyes and 20 degrees below eye level
Set the brightness of your screen similar to the lighting in your environment
Follow the 20-20-20 rule
Take Care of Your Eye Health
Taking care of your eye health plays a massive part in your overall wellness. If you have any questions or concerns about blue light glasses or digital eye strain, book an appointment with your eye care professional today.