Laser eye surgeries, such as LASIK, PRK, and SMILE, are commonly performed vision correction procedures used to help patients correct refractive issues with their vision. The surgery is often performed using numbing agents to minimize discomfort.
When you visit Broadway Eyecare, our team of experienced optometrists will happily walk you through the before and after steps of your laser eye surgery.
How to Prepare for Your Laser Eye Surgery
Prior to the laser eye surgery, your eye doctor will want to conduct a thorough examination of your eyes before providing any surgical recommendations.
This examination will entail:
Looking for signs of inflammation, infection, or other ailments
Measuring your cornea and looking for any abnormalities
Evaluating your vision
Discussing what to expect and how to prepare
Preparing you for the recovery process
During the Procedure
The time to complete the surgery will depend on the type of procedure you are having, but most laser eye surgery options provide vastly improved vision within the same day.. For example, with LASIK eye surgery, you can expect clear vision in as little as 24 hours.
The surgeon performing your procedure will administer numbing eye drops to alleviate discomfort and provide the best experience possible.
After the procedure
Post-operative care can vary based on the procedure performed. Broadway Eyecare strives for a patient-friendly experience and will provide all the support they can.
Some common aftercare steps include:
Eye drops to prevent dry eyes
Specialty contact lenses that act as bandages
Protective eyewear
You can be confident that Broadway Eyecare takes every measure possible to provide a comfortable and stress-free experience.
What are the associated side effects of laser eye surgery?
In most cases, laser eye surgery is completed without any major complications, but, like any surgical procedure, there are risks, and you could experience side effects.
Some common side effects of laser eye surgery include:
Glare and shadowy vision that may last for a few days
Light sensitivity
Mild to moderate discomfort or itching
Some uncommon side effects of laser eye surgery include:
Infection
Under or over-correction
Worsening of vision
Broadway Eyecare is here to guide and assist you through your laser eye surgery, ensuring you are provided with thorough before and aftercare instructions.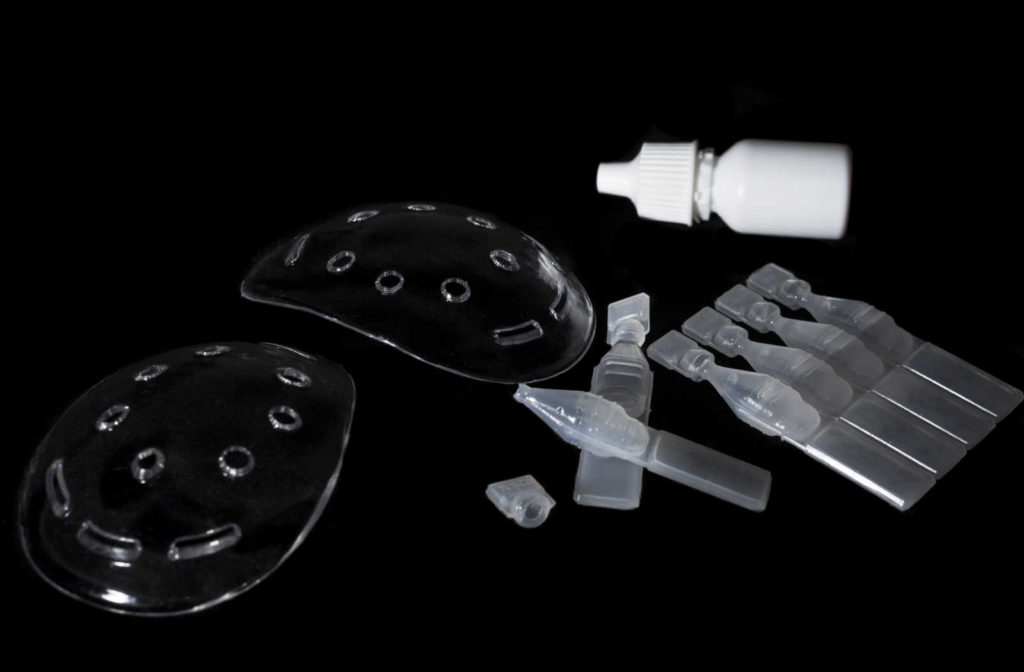 How to Prevent Discomfort after Laser Eye Surgery?
Your habits in the hours and days after your laser eye surgery can significantly impact how your eyes heal.
Here are some simple tips that can help prevent discomfort after your laser eye surgery:
Get plenty of rest to allow your eyes time to heal
Use dark sunglasses to protect against light sensitivity
Avoid any unsterile water getting into your eyes
Keep your eyes moisturized with artificial tears
Here are some things to avoid after laser eye surgery:
Touching your eyes or contact activities that could put them at risk
Not following your doctor's aftercare plan
Not taking your medications as prescribed
Skipping follow-up appointments
Wearing makeup or lotion that can irritate the eyes during the healing process
Entering pools, saunas, lakes, and oceans during the healing process
If any of your symptoms worsen or you experience severe discomfort, you should contact your eye doctor immediately and book an appointment.
What Are the Different Types of Laser Eye Surgery?
After a thorough eye examination, your optometrist will make a recommendation on the type of laser eye surgery that is best suited for your desired result. Laser eye surgery aims to correct refractive issues like myopia, hyperopia, and astigmatism.
Here Are the 3 Different Types of Surgeries Offered at Broadway Eyecare:
Laser Assisted in Situ Keratomileusis (LASIK)
LASIK is one of the most commonly performed laser eye procedures. During the procedure, a corneal flap is created by the surgeon. Lifting the flap exposes the cornea's middle layer, which is reshaped with the laser to correct the refractive error. The often-quick healing time and clear vision within 24 hours make this one of the most popular laser eye surgeries.
Photo-Refractive Keratectomy (PRK)
PRK can be a great option for people with thin or irregular corneas, high prescriptions, or dry eyes as it does not require a corneal flap, like in LASIK surgery.
Small Incision Lenticule Extraction (SMILE)
SMILE is quick, minimally invasive, requires very little downtime, and offers similar results to LASIK. The surgery entails removing a segment of the corneal thickness through a small incision to correct the refractive error.
Book a Consultation Today
At Broadway Eyecare, our doctors are committed to providing attentive optometric care in Saskatoon and are supported by our friendly staff. Please don't hesitate to book a laser eye consultation today!