Myopia (nearsightedness) is a common eye problem that many Canadians find themselves dealing with every day. While it's possible to address myopia with eyeglasses, contact lenses, and other types of myopia control, many people find themselves wondering what causes myopia in the first place and if it's possible to avoid it.
Some of the factors that contribute to myopia development include genetics and family medical history, overall health, and the amount of time children spend indoors.
Early childhood eye exams can provide an opportunity to assess your children's risk for myopia development and catch nearsightedness early to get started with myopia control before it progresses.
What Is Myopia?
If you've ever heard somebody use the term "nearsightedness," you've heard of myopia—both terms are often used interchangeably.
Myopia is a common form of refractive error that causes your vision to get blurry at a distance. Nearsightedness typically begins during childhood and can continue to develop into a person's early 20s.
Myopia is caused by the elongation of the eyeball over time. When your eye is healthy, light refracts through the cornea to reach a focal point on your retina. But when your eye is too long (or your cornea is too curved), light may focus in front of your retina instead, leading to blurry distance vision.
Some of the signs of myopia include:
Blurry vision
Difficulty seeing at a distance
Headaches
Squinting
Eye strain
Why Does Myopia Develop?
Several factors can lead to the development of myopia. Primarily, the most widely-known cause is genetics. If one or both of your parents have myopia, you can be much more likely to develop myopia as well.
But genetics aren't the only factor. The likelihood of developing myopia can also increase based on age and how much time children spend indoors versus outdoors. It's generally believed that children who spend more time inside may be more likely to develop myopia.
Family Medical History
While children may have a higher myopia risk if their parents have myopia, it's important to remember that family medical history is not a guarantee of developing nearsightedness—but it is a risk factor worth remembering.
If you're worried about your child's vision and you have myopia, you can schedule a children's eye exam to gain a better understanding of your child's eye health.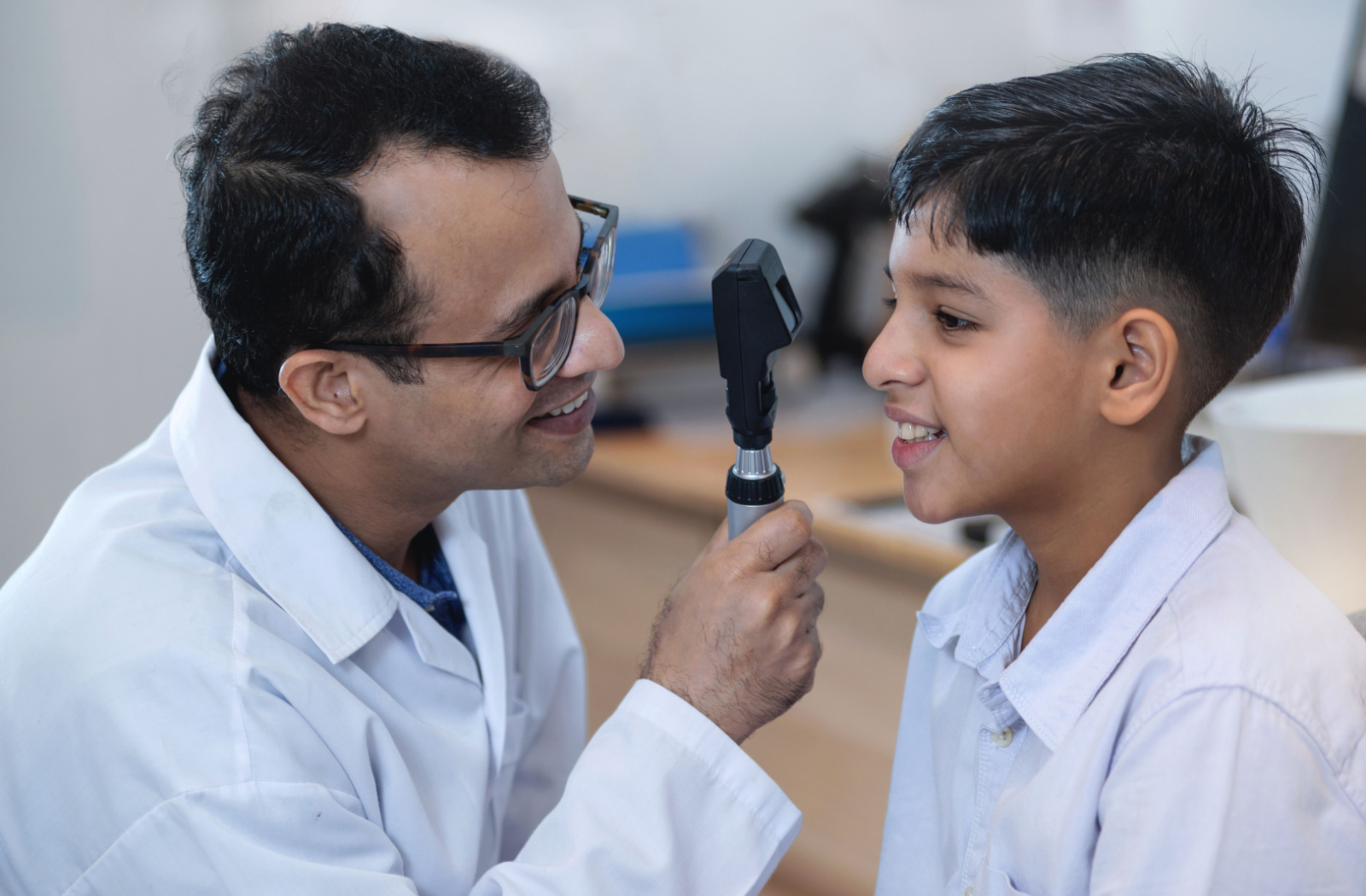 Age & the Link to Myopia
While it is technically possible to develop myopia at any age, it often starts in childhood and progresses until early adulthood. As your child ages, their eyes can be constantly growing and changing, which can cause issues like myopia.
However, in some situations, myopia can develop after you've reached adulthood. While this is rare, it can occur due to extended periods of nearby visual work or other health conditions that affect your eyes.
So, if you begin to notice that you or your child have begun squinting, rubbing your eyes, or experiencing blurry vision, you should visit your optometrist for a comprehensive eye exam.
Can a Child Develop Myopia if They Spend Too Much Time Inside?
One of the biggest questions often asked about nearsightedness is whether or not myopia actually develops due to too much time inside. Research does suggest that there is a link between spending time outdoors and preventing myopia.
When children spend more time indoors doing close-up visual work, like studying or playing video games, they may be at a much higher risk of developing myopia. There is some debate about the exact cause, but it could be that when a child spends most of their time focusing on nearby objects, their eyes begin to adjust accordingly.
It's even been found that children who spend more time outside every day may have a significantly reduced chance of developing myopia. This is often thought to be due to the fact that there are fewer nearby visual tasks when outdoors, so children's eyes are adjusting to a different visual environment.
How to Help a Child With Myopia
If your child has myopia, don't worry—you're not alone, and there are ways to help. Try to get your child to spend time outdoors and take regular breaks from close-up work. And make sure you regularly schedule children's eye exams with an optometrist.We can monitor your child's vision and recommend appropriate treatments for myopia control if they begin to show signs of nearsightedness. Book an appointment with our team at Broadway Eyecare to get started today.