Every year, thousands of Canadians undergo laser eye surgery in order to achieve the freedom of clear vision without the need for glasses or contact lenses. While laser eye surgery can greatly improve your vision, it also comes with the potential for side effects. One potential side effect of laser eye surgery is dry eyes.
As is the case with any medical procedure, it is important to be fully aware of potential complications and side effects prior to undergoing treatment. During a laser eye surgery consultation, your optometrist can evaluate the health of your eyes to determine if you are a good candidate for the procedure. In most cases, individuals who are already experiencing severe dry eyes may not be candidates for laser eye surgery.
What Is Laser Eye Surgery?
Laser eye surgery is a popular medical procedure used to correct vision problems such as nearsightedness (myopia), farsightedness (hyperopia), and astigmatism. Laser eye surgery can be a safe and effective way to correct your vision and eliminate the need for glasses or contact lenses.
During laser eye surgery, your surgeon uses a laser to reshape your cornea, the clear front surface of your eye, in order to correct refractive errors that cause blurry vision. Your cornea plays a key role in how you see, as its main function is to refract light.
There are several types of laser eye surgery, however, the most common types performed in Canada are LASIK (laser-assisted in situ keratomileusis) and PRK (photorefractive keratectomy).
LASIK
During LASIK, your surgeon uses a laser to create a thin flap in your cornea, which is then lifted to expose the underlying tissue. The laser is then used to reshape the cornea, which corrects the patient's vision. The flap is then replaced and left to heal.
One of the key benefits of LASIK is the quick healing time, which can help to reduce the risk of post-surgery infections. Patients who have undergone LASIK can expect clear vision within 24 hours of surgery and fully stable vision within a approximately a week.
PRK
Another popular type of laser eye surgery is PRK, in which the surface layer of your cornea is removed, and a laser is used to reshape the cornea. The procedure typically takes 5-10 minutes per eye, and you can expect your cornea to completely heal in 4–6 weeks.
Potential Risks of Laser Eye Surgery
While laser eye surgery is generally safe and effective, there are still potential side effects and complications.
Potential side effects from laser eye surgery include:
Dry eyes
Glare or halos with night driving
Sensitivity to light
Eye pain or discomfort
Laser eye surgery can also cause an over-correction or under-correction of your vision due to improperly reshaping your cornea. Both of these potential complications can create new vision problems that cause blurred vision.
During a laser eye surgery consultation, your eye care professional can discuss the possible benefits and risks associated with the procedure while keeping your medical history and vision needs in mind.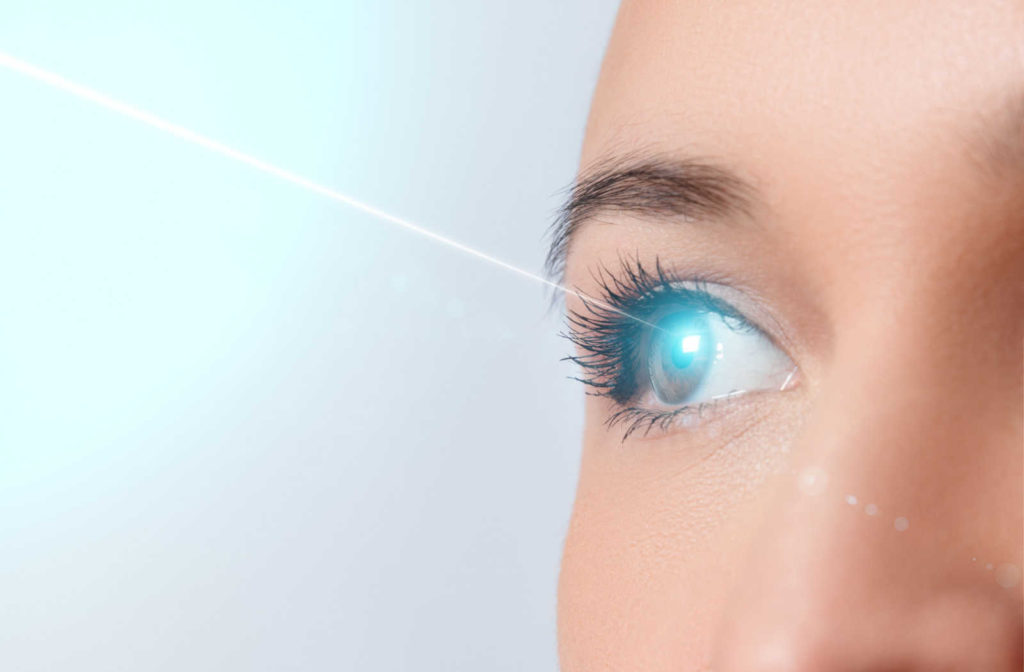 Why Does Laser Eye Surgery Cause Dry Eyes?
As discussed above, dry eyes are one of the most common side effects caused by laser eye surgery. This is especially true of procedures like LASIK, with one study finding that 95% of patients reported dry eye symptoms immediately after surgery. This percentage did reduce to 60% after 1 month post-op, and most patients found that their symptoms improved within 6–12 months after surgery.
During LASIK, a flap is created on your cornea to allow for the reshaping of the underlying tissue. This flap can cause a temporary interruption to the nerves responsible for stimulating tear production. This decrease in tear production can cause dry eyes.
PRK may be a better option for individuals with existing dry eye symptoms or those who are concerned with developing dry eyes. Unlike most types of laser eye surgery, PRK does not require a corneal flap and is less likely to cause dry eyes after surgery.
What if I Have Dry Eyes Prior to Laser Eye Surgery?
Your eye surgeon should be fully aware of any eye conditions that you have prior to undergoing laser eye surgery, including dry eye symptoms. Having dry eyes prior to surgery may mean that you are not a good candidate for certain procedures, including LASIK.
Common dry eye symptoms to discuss with your eye care team include:
Irritation
Redness
Burning
Gritty feeling
Watery eyes
Sensitivity to light
How to Treat Dry Eyes After Laser Surgery
In most cases, dry eyes caused by laser eye surgery can be treated with lubricating eye drops. Using eye drops throughout the day can help compensate for a decrease in tear production and keep your eyes hydrated. If over-the-counter eye drops are not providing enough relief, ask your eye doctor about prescription eye drops or long-term treatments.
For many individuals, dry eye symptoms improve within a few months after laser eye surgery. If you are experiencing persistent dry eye symptoms after surgery, consult with your eye care team, as there may be other contributing factors to your dry eyes that require additional treatment.
Book a Consultation
At Broadway Eyecare, our knowledgeable team is here to support all of your eye care needs, including laser eye care consultations. Contact our office to book a consultation today!