There are so many innovative ways to treat dry eye symptoms, thanks to advances in medical optometry. You may have heard about using light therapy to promote healthy, hydrated eyes, but how do you know the differences between the different types? And how do you know which one is best for you?
Your optometrist can recommend which dry eye treatment is best for your eyes. First, they will need to complete a comprehensive eye exam, and they may require additional testing to determine the underlying cause of your symptoms to recommend the best treatment for you.
What Different Types of Light Therapy Are There?
Light therapy has been used in medical settings for several years. From promoting healthier-looking skin in medical aesthetics to encouraging healthier tears in the eyes, light therapy seems to be everywhere.
But, there are a few key differences in the types of light used and their specific applications for treatment.
IRPL
Intense regulated pulsed light (IRPL) therapy focuses on the word "regulated" in its name. This light treatment offers a precise and targeted treatment to glands underneath the skin. Warming up these meibomian (oil) glands and promoting healthy tear flow into your eye can help resolve dry eye symptoms.
IPL
Intense pulsed light (IPL) therapy uses a less regulated pulse of light to target a general area underneath the skin and into the glands. The pulses from this light start strong and fade as they are absorbed into the skin.
Which Light Treatment Is Best?
IRPL comes with many advantages. When meibomian gland dysfunction is the cause of your dry eyes, you want a treatment that is going to target the precise areas that are affected.
IRPL therapy has many benefits, including:
Improving gland function
Clearing gland blockages
Minimizing inflammation
Promoting tear quality by restoring natural oils
The E>Eye device uses a patented intense regulated light pulse to treat chronic eye disease. IRPL is specifically designed for meibomian gland dysfunction and eye health, while IPL is adapted from dermatological applications.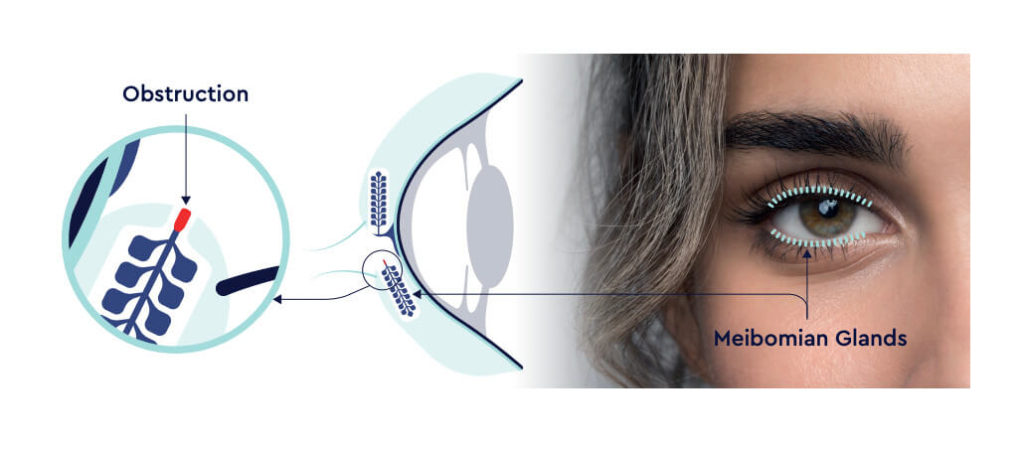 Targeting Meibomian Glands
Your meibomian glands play a key role in keeping your eyes healthy and hydrated. They produce 1 of 3 ingredients that make up your tear film: oil.
The oily layer protects the tears and prevents them from evaporating too quickly.
Meibomian gland dysfunction can eventually lead to gland dropout (loss) or atrophy, resulting in long-term and severe dry eye symptoms. When the meibomian glands do not secrete enough oil onto the eye, tears evaporate too quickly, resulting in an inflammatory cycle.
What Is IRPL Treatment Like?
Before your treatment, your optometrist will determine the cause of your dry eye symptoms. Then, they will recommend how many treatments you should receive to alleviate your symptoms and promote healthy tear production.
During your IRPL treatment, protective covers will be placed over your eyes and a thick gel will be applied to your face. Light pulses will then be directed to your upper cheek area, bridge of nose, and temples using the E>Eye IRPL device.
Treatments are completed over several sessions, spread weeks apart to provide you with the best results possible. You may notice some redness in the treatment area, which typically fades quickly.
After the initial series of treatments, your optometrist may recommend a repeat IRPL session every 12 months for maintenance.
Where Can I Get IRPL?
IRPL is growing in popularity, and many people are seeking it out as a solution to their dry eye symptoms—and for good reason!
Here in Saskatoon, eyes can get very dry from the winds and weather in the Prairies. In addition, other contributing factors such as living or working in dusty environments, using air conditioning or fans, and computer use can lead to dry eye.
The Saskatoon optometrists at Broadway Eyecare are trained in using IRPL as an effective treatment targeting dry eye symptoms. Ask your optometrist about IRPL at your next eye exam, or get started right away by coming in for a dry eye assessment.
You shouldn't have to live with dry eye symptoms. Let the professionals at Broadway Eyecare help. Schedule your appointment today.